Valge tee  ●  White tea
Valged teesordid on väga kallid ja haruldased kogu maailmas. Saadaval on need ainult parimates erikauplustes. Valge tee on kõige naturaalsem, kõige vähem töödeldud tee. Teelehed on fermentatsiooni (kääritamise) välistamiseks kergelt aurutatud ja kuivatatud. Seetõttu vajab ka valge tee pikemat valmistamisaega (7 min) Jook on kerge ja eriti aromaatne.
●
White teas are very expensive and rare all over the world. They are only available at the best special stores. White tea is the most natural and the least processed tea. The leaves are lightly steamed and dried in order to avoid the fermentation of the tea leaves. This is the reason why white tea needs a longer preparation time - 7 minutes. The brew is light and especially aromatic.
Pai Mu Tan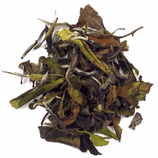 Valge tee Hiinast. Võib pidada vast kõige tervislikumaks teeks. Aromaatne ning hõrgu peene maitsega. Tee on suureleheline, ning teetõmmis vajab seetõttu pikemat "tõmbamise" aega.
●
White tea from China. This may be the healthiest out of all teas. Aromatic and with a delicious, exquisite taste. Tea is big-leaved  and therefore it needs a bit more time to brew.