Oolong (Punane tee)  ●  Oolong (Red tea)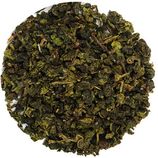 Oolong e. Punane tee on pooleldi fermenteeritud tee s.o. musta ja rohelise tee vahepealne, milles on ühendatud musta ja rohelise tee parimad maitse- ja aroomiomadused. Ka sisaldab ta kaks korda rohkem kofeiini, kui must tee ning on väga vitamiinirikas ja vürtsikas. Peetakse maailma aromaatsemaks teeks. Oolong sobib hästi Hiina toitude juurde. Oolongi teed tarnitakse Hiinast (China Oolong) ja Taiwanist (Formosa Oolong) Tuntakse ka "Musta Draakoni" nime all. Omab organismi üldtoniseerivat, vastupanuvõimet tugevdavat toimet, reguleerib seedetegevust. Regulaarsel tarvitamisel väheneb vere kolesteroolisisaldus, kehakaal võib langeda rasvkoe intensiivsema lõhustumise arvel, samas aitavad tees sisalduvad ained eemaldada organismist jääkaineid, mis vabanevad rasvkoe lagunemisel.
 ●
Oolong tea is a partly fermented tea - it is inbetween black and green tea, in which are combined the best taste- and fragrance-features of both teas. It contains twice as much caffeine than black tea and is very spicy and rich in vitamin. It is considered to be the world's most aromatic tea. Oolong fits well with Chinese foods. Oolong tea is delievered from China (China Oolong) and from Taiwan (Formosa Oolong). It is also known under the name of "Black Dragon".
 

❧ 

TAIWANI OOLONG
 
 
 
 
 
 
 
 
Kood
Nimetus
Vesi
Aeg
 
1810
Formosa Choice Oolong
85

°

C
2-3 min
 
2860
Formosa Dung Ti Oolong (Jade Oolong)
75

°

C
2-4 min

Exclusive

 
 
 
 
 
 
❧ ERILISE PÄRITOLUGA OOLONG
 
 
 
 
 
 
 
 
Kood
Nimetus

Vesi

Aeg

 
427
Thailand Doi Tung Red Thai
75

°

C
2-4 min
Exclusive
 
 
 
 
 
 

❧ 

HIINA OOLONG
 
 
 
 
 
 
 
 
Kood  
Nimetus
Vesi
Aeg
 
1615
China Oolong SE CHUNG Std. S-201
75

°

C
2-4 min
 
523
China Oolong TIE KUAN YIN 
75

°

C
2-4 min

Exclusive

22411
Milk Oolong
75

°

C
2-4 min

Exclusive

22412
Gingseng Oolong
75

°

C
2-4 min

Exclusive

22433
Da Hong Pao
75

°

C
2-4 min
Exclusive
 
 
 
 
 
 

❧ 

OOLONG TEE LISANDITEGA
 
 
 
 
 
 
 
 
Kood
Nimetus
Vesi
Aeg
 
3149

LA LUNA OOLONG

Oolong tee, karamellkompvek, mee

õietolm, kassinaeris, safloor, mandel,

maitselisand

75

°

C
2-4 min
 
3216

ORANGE FLOWER OOLONG

Oolong tee, apelsinipuu õied,

maitselisand

75

°

C
2-4 min