Must tee  ●  Black tea
Tugevalt fermenteeritud (kääritatud) tee. Fermenteerimine kujutab endast teelehe rullimise käigus väljunud rakumahla oksüdeerumisprotsessi, mis kutsub esile värvi muutumise ja mustale teele iseloomuliku aroomi tekke. Tänu fermenteerimisele vabanevad ka teised tee maitse jaoks tähtsad ained, mis osalt lahustuvad ainult väga kuumas vees. Fermenteerimisele järgneb kuivatamiseprotsess. Tee kuivab masinates temperatuuril 85-100oC juures umbes 20 min.
●
A strongly fermented tea.  Fermenation is a process where chlorophyll in the leaves is enzymatically broken down, and its tannins are released or transformed. This causes the change in colour and gives the characteristic aroma for tea. Thanks to fermentation, other substances important to the tea taste, are released. Substances which partly dissolve only in very hot water. To fermentation follows the drying process. The tea dries in machines at temperatures of 85-100oC, for about 20 minutes.
Assam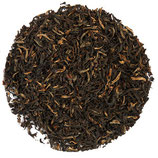 Põhja-Indias mõlemal pool Brahmaputra jõge asuv teeregioon on maailma suurim terviklik teekasvatuspiirkond. Assami teed nimetatakse ka India teeks - mägitee tugeva maitsega ja linnaseid meenutava aroomiga, punakas-pruuni tõmmisega. Assami tee on üldiselt kange ja vürtsikas, teda segatakse meelsasti noortest teemaadest pärit kergemate sortidega. Assami tee on Inglise või Ida-Friisi traditsiooniliste segude põhjaks. Tänapäeval annab Assam umbes poole India tee toodangust ja 15% maailma toodangust. Oma kanguse ja vürtsikuse tõttu sobib ideaalselt hommikuseks ergutajaks. Assam teele sobib lisada ka suhkrut ja piima (koort).
●
The world's largest and most complete tea growing region is located in North India, on both sides of the Brahmaputra River. Assam tea is also called an Indian tea - a mountain tea with strong taste with malt reminding fragrance, reddish-brown brew. Assam tea is generally strong and spicy. It mixes pleasingly with lighter young tea sorts from tea growing countries. Assam is base for English or East-Frisian traditional tea blends. Nowadays, Assam gives around half of the India's tea production, and 15% of world's tea production. Due to its strong and spicy taste it suits ideally as a morning awakener. It is alright to add sugar and milk or cream to Assam teas.
Darjeeling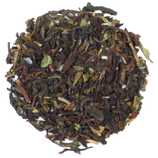 Kõrgmägede tee Himaalaja nõlvadelt Darjeeling piirkonnast. Valmistatud tipulehtedest, mahedamaitseline, kuldkollase tõmmisega. Hinnatakse kõikidest teedest kõige kõrgemalt. Tee pehme maitse avaldub ainult kvaliteetse, pehme veega. Hea darjeelingu tunneb ära peene lillelise, muskaatse aroomi järgi.
●
A high mountain tea from the mountainsides of Himalayas, in the region of Darjeeling. It is usually made of the bud and two leaves, has a mild taste and a golden-yellow brew. This tea is evaluated above all other teas. The tea's soft taste can be manifested only in quality soft water. You can recognize a good Darjeeling by its fine flowery, nutmeg fragrance.
Keemun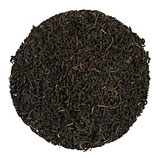 Kõige tuntum Hiina must tee. Pärineb Hiina Keemuni regioonist. Iseloomuliku meeldiva aroomi, rikkaliku "sooja" maitsega tee. Sobib juua nii suhkruga ja koorega, kui ka ilma, ning on eriti meeldivaks joogiks just küpsetiste kõrvale, nagu leivad, koogid ja muffinsid. Proovige tassikest sooja auravat teed õhtuti ja see võib saada meeldivaks harjumuseks.
●
The most known Chinese black tea. It originates from them Keemun region in China. This tea has a characteristically pleasant fragrance and a rich "warm" taste. You can drink it with sugar and cream but also without. It is an especially pleasant drink next to bakery goods, such as breads, cakes and muffins. Try a cup of warm steamy tea on evenings, it might become a pleasant habit.
Yunnan
Hiina mägine subtroopiline Yunnan piirkond. Arvatakse, et just sellest Hiina piirkonnast on teetaim Camellia sinensis alguse saanud. Seal kasvavad siiani metsikud 1000 aastased teetaimed. Yunnani piirkonna teepõõsal on suuremad lehed, kui teistes Hiina teepiirkondades, ning seega on Yunnani tee sageli tuntud, kui just "suureleheline tee" Yunnani musta teed austatakse just tema kõrge kvaliteedi ja meeldiva "tiheda ja kestva" maitse tõttu. Sobib hommikuteeks!
●
Mountainous subtropical region of Yunnan. Some say, that the tea plant Camellia sinensis originates from this region in China. To this day, thousand year old wild tea plants grow there. Tea shrubs in the region of Yunnan have larger leaves than the tea shrubs growing in other tea regions in China. This is why Yunnan tea is often known as "big leaf tea". Yunnan black tea is respected for its high quality and pleasantly "tight" and lasting taste. Suits for mornings!
Lapsang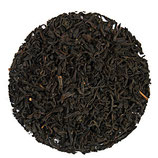 Kuulus suitsutatud tee Hiina Fujiani provintsist. Teelehed kuivatatakse bambuskorvides männikäbide tule kohal, lisades sellega suitsust aroomi ning maitset teele. Teel on omapärane eksootiline suitsu maitse ja aroom ning tõmmis on punakas-pruuni värvi. On soositud Šoti-viski sõprade seas ja sobib ka sigari kõrvale. Soovitatakse nautimiseks vürtsikate toitude ja juustu kõrvale.
●
Famous smoked tea from the Fujian province of China. The tea leaves are dried is bamboo baskets above fire of pinecones, adding a smoky fragrance and taste to the tea. The tea has a characteristic and an exotic smoky taste and fragrance with brownish-red brew. Lapsang is favored among those who like Scottish whiskey, and it fits well with a cigar. It is recommended to be enjoyed with spicy foods and cheese.
Ceylon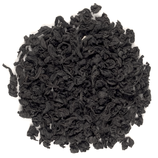 Ceyloni tee ehk Sri Lanka tee on mõrkjas, vürtsine ning sügavkuldse tõmmisega. Sobib joomiseks igal ajal, kuid eelkõige hommikuti, kas siis koore ja suhkruga, või ilma. Rullitud leht, üsna kange tee.
●
Ceylon tea, also known as tea of Sri Lanka, is bitter, spicy and has a deep gold brew. You may drink it at any time, but it is primarily recommended to have it in the mornings, with cream, sugar or without. Rolled leaf and quite strong tea.
Gruusia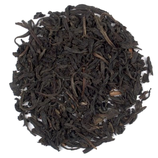 Gruusia teed peetakse alla keskmise kvaliteedi, sisaldab vähe parkhappeid, tõmmis on kuldkollane, maitse mõrkjas, aroom nõrk.
●
Grusian tea is regarded as below average in terms of quality. It contains small amounts of tannic acids, brew is golden-yellow, taste is bitterish, and the fragrance is weak.
Java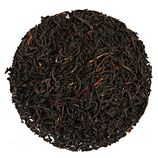 Jaava ehk Indoneesia tee – Jaava ja Sumatra saarel kasvatatav kergelt linnasemaitseline, tume veidi mõrkjas tee. Kasutatakse teesegudes.
●
Java - known as Indonesian tea. This tea, with a lightly malty flavored, dark and a bit bitterish, is grown on the islands Java and Sumatra. Used in tea blends.
Kenya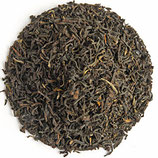 Aafrika teemaadest esikohal olev maa on Keenia. Kui Hiinas joodi ja tunti teed juba 5000 aastat tagasi, siis Keeniasse istutati esimene teepõõsas alles 1903 aastal brittide poolt. Korjatakse ainult teepõõsa kaks ülemist lehte ja punga ja nii regulaarsete tsüklitena iga 7-14 päeva tagant. Selle tulemusena võitis Keenia tee rahvusvahelise auhinna kõrge kvaliteedi ja suurepärase hõrgu aroomi eest.
●
Kenya is the leader of the teas that come from Africa. People in China already drank tea 5000 years ago, but the first tea shrub was planted in Kenya in the year 1903 by the British. Only a bud and two top leaves are harvested. This is done in regular cycles, every 7-14 days. This resulted in Kenya's tea winning of international award, for its high quality and excellent delicious fragrance.