Lapacho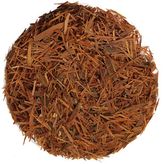 Lapacho ehk sipelgapuu koor. On organismi üldtugevdava toimega. Tugevdab immuunsüsteemi ning seega organismi vastupanuvõimet haigustele. Rakke ning verd taastava toimega. Rahustava ja valuvaigistava toimega, aitab vett organismist väljutada, ning tugev antibiootikum (põletikuvastane toime). On ka täheldatud viiruste vastast toimet. Puukoore tõmmis on mahe tervislik jook. Soovitatakse juua kuuridena gripi ning viiruste perioodil üks tass teed hommikul, päeval ning enne magama minekut. Soovi korral võib lisada teelusikas mett tassi tee kohta. Kofeiini vaba. Ei ole soovitatav rasedatele.
Valmistamine: 2 teelusikat lapachot 1 liitri vee kohta. Keeta 5 minutit ja lasta tõmmata 15-20 minutit. Maitseb hästi nii kuumalt kui ka külmalt. 
●
Lapacho has a fortifying effect on the organism. Strengthens the immune system and therefore the organism's resilience to illnesses. Has a cell and blood recovering effect. Also owns a calming and pain reducing effect, helps to excrete water from organism, a strong antibiotic effect, and its ability to fight off viruses has also been observed. This tree bark's brew is a mild healthy drink. It is recommended to drink it in courses during periods of flu and viruses - a cup in the morning, in the noon and in the evening. If you wish you can add a teaspoon of honey per cup of tea. Caffeine free. Not recommended for pregnant woman.
Preparation: 2 heaped tea spoons of lapacho for 1 liter of water. Boil it up for 5 minutes then let it brew 15-20 minutes. Tastes good hot or cold.