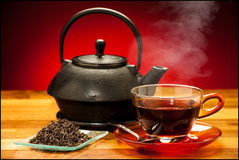 TEE
Teetaimest on olemas kaks varianti: Thea (Camellia) sinensis - hiina tee ja Thea (Camellia) assamica - Assami tee. Kumb neist on algupärane liik, seda pole suudetud tänaseni üheselt selgitada.
Hiina teepõõsa taim kasvab kuni nelja meetri kõrguseks, Assami tee oma pidavat, kui tal takistamatult kasvada lasta, sirguma enam kui kahekümne meetri kõrguseks. Mõlemad liigid on igihaljad ning sammasjuurega, mis võib kasvada kuni viie meetri sügavusele. Lehed on lühikeste varte ja nahkja pealispinnaga. Kujult on nad lantsetjad, elliptilised või munajad, nende serv on saagjas. Pungad ja noored lehed on alumiselt küljelt kaetud karvakestega ning neil on hõbedane, siidine läige. Assami tee lehed on tunduvalt suuremad kui hiina tee omad. Jasmiinitaolised õied paiknevad lehekaenlastes üksikult või mitmekesi koos. Ümarad viljad kujutavad endast kolme lehvikuga kapsleid, milles on üks kuni kolm kirsikivi suurust seemet. 
Teepõõsas kasvab nii tasandikel kui troopilistes piirkondades kuni 2100 meetrit merepinnast. Hiina tee on vähem tundlik kui Assami tee, ta kannatab välja isegi temperatuuri miinus 3oC. Mõlemad liigid vajavad kõrget õhuniiskust ja regulaarselt sademeid.
Noori taimi kasvatatakse ette külvipeenras ning istutatakse seejärel istandusse. Uutest rajatud istandustest võib üldiselt hakata regulaarselt saaki koristama alates kolmandast aastast, subtroopilistes vöötmetes alates viiendast aastast. Seda tehakse põhilistes kasvatuspiirkondades käsitsi, masinaid kasutatakse ainult pinnase harimiseks ja tee transpordiks. 
Parimate teesortide jaoks võetakse ainult pung ja kaks ülemist lehte. Vanemad, alumised lehed tulevad kõne alla ainult odavamate teesortide jaoks. Võrse ladvalehekest nimetatakse pekolatv e. pekoleht e. peko. Peko on väga nooruke, alles torujas leheke, milles on kõige suurem toimeainete: katehiinide ja kofeiini sisaldus. Kofeiini eraldati esmakordselt 1819 aastal kohviubadest ja nii sai ta oma nimetuse hoopis kohvipuult, kuigi tees ja koolapähklis sisaldub teda rohkem.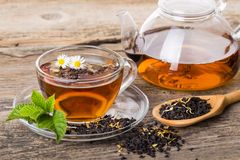 TEA
Two major varieties of tea plants are grown: Camellia sinensis for Chinese teas, and Camellia sinensis assamica for Indian Assam teas. Which one of them is aboriginal, has not been successfully concluded.
Chinese tea shrubs grow up to four meters high. The Assam tea shrub can grow up to more than twenty meters high, unless cut. Both tea plants are evergreen, with a taproot system that can grow as deep as five meters. Both of the tea plant leaves have short stalks and leathery surfaces. Their shapes vary from lanceolate, elliptic and ovoid, with serrated edges. Buds and young leaves are covered at bottom edges with fur having a silvery and silky shine. Assam tea leaves are significantly larger than the ones of Chinese tea. Jasmine-like flowers are located at the axils of leaves, alone or together with others. Round fruits look like capsules with three fans, within are one to three seeds with the size of cherry rocks.
Tea shrub grows on plains and in tropical areas up to altitudes as high as 2,100 metres above sea level. Chinese tea is less sensitive to temperatures than Assam tea. It can even persist in -3oC. Both sorts require high humidity and frequent rainfall.
Young plants are grown beforehand in seed beds and are then planted in a plantation. You can usually start to harvest crops regularly from newly founded plantations after third year. In subtropical zones after fifth year. In the main growing regions the harvesting is done by hand. Machines are only used for cultivation of soil and for tea transportation.
Only the bud and two top leaves are taken for the best tea sorts. Older and lower leaves are only accepted for cheaper tea sorts. Buds at the top of the branch are called "Apical bud". Apical bud is a very young unfurled leaf, in which is the highest content of substances: catechins and caffeine. Caffeine was extracted for the first time in 1819 from coffee beans, and that's how it got its name from coffee plant, although tea and Kola nuts contain more caffeine than coffee.