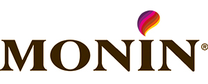 MONIN
Tere tulemast MONIN'i maailma.
MONIN'i peenes ja loovas maailmas on meie prioriteetideks kvaliteet, innovatsioon, mitmekülgsus ja teenindus.
Me oleme pühendunud klientide varustamisele parimate toodetega mida kasutatakse kõige populaarsemate ja mitmekülgsete retseptide maitsestamisel. Meie tugevus peitub kliendivajaduste etteaimamisel kus iganes nad asuvad.
Rohkem kui 90 aastat kogemust on MONIN'ist teinud valitud kaubamärgi, gurmee maitsetoodete turul, rohkem kui 100 erineva maitsega mis saadaval 100 erinevas riigis. MONIN pakub võimalusi mida on sama piiramatult kui klientidel on fantaasiat. Me oleme pere ettevõte mis on ehitatud usaldusele: usaldusele meie töötajate vastu ja usaldusele meie esindajate vastu.

Me kutsume teid jagama meie kirge kvaliteedi ja loomise vastu ja avastada miks MONIN tõeliselt maitsestab Maailma.
●
Welcome to the world of MONIN.

In the exquisite and creative world of MONIN, quality, innovation, versatility and service are top priorities.
We are dedicated to providing our customers with the best flavours to use in the most popular and versatile applications. Our strength lies in anticipating the needs of consumers, wherever they are.

With over 90 years of experience, MONIN has become the brand of choice of the gourmet flavour business with over 100 flavours available in 100 countries. MONIN offers possibilities as endless as our customers' imagination. We are a family business built on trust: trust in our employees and trust in our distributors.

We invite you to share our passion for quality and creation and discover why MONIN truly flavours the world.

Olivier Monin
MONIN - Omanik, Esimees