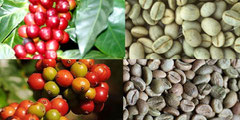 KOHV
Kohvi puud kärbitakse lühikeseks, et säilitada nendes oma energia. Iga puu on kaetud rohelise vahajas lehega, lehed kasvavad üksteise vastas paaris. Kohvimarjad kasvavad mööda oksi. Kuna kohvi puu kasvab pidevas tsüklis ei ole ebatavaline näha lilli, rohelisi vilju ja küpseid marju samaaegselt ühel puul.
Pärast esimest õitsemist võtab vähemalt aasta aega, et mari küpseks. Kohvi taimed võivad elada kuni 100 aastaseks aga on kõige produktiivsemad vanuses 7-20. Õige hooldusega saab säilitada ja isegi suurendada oma toodangut aastate jooksul, sõltuvalt kohvi sordist. Keskmine kohvi puu toodab 4,5 kg kohvimarja aastas või 1 kg rohelist kohvi uba.
Ubade säilitamiseks on soovitatav hoida neid läbipaistmatus ja õhukindlas anumas toatemperatuuril. Hoida pimedas ja jahedas kohas.
Kohviube röstitakse meil ise Tallinnas. 
Meie kauplustes on saadaval päritolumaalt kohviube kui ka maitsestatud kohviube.
COFFEE
Coffee trees are pruned short to conserve their energy. Each tree is covered with green, waxy leaves growing opposite each other in pairs. Coffee cherries grow along the branches. Because it grows in a continuous cycle, it's not unusual to see flowers, green fruit and ripe fruit simultaneously on a single tree.
It takes nearly a year for a cherry to mature after first flowering. While coffee plants can live up to 100 years, they are generally the most productive between the ages of 7 and 20.
Proper care can maintain and even increase their output over the years, depending on the variety. The average coffee tree produces 10 pounds of coffee cherry per year, or 2 pounds of green beans. 
To preserve your beans' fresh roasted flavor as long as possible, store them in an opaque, air-tight container at room temperature. Keep your beans in a dark and cool location. 
Coffee beans are roasted in Tallinn.
In our stores we have coffee beans and flavored coffee beans